Sobre nosotros
Chang Feng te ofrece la más exquisita variedad de China que puedes encontrar en Barcelona. Ven a visitarnos o haz tu pedido online. Verás como te sorprenderemos con nuestras especialidades.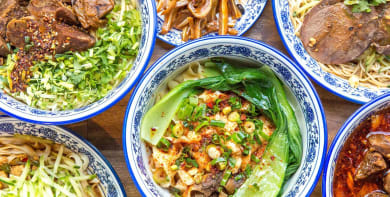 Opiniones
133 comentarios
Dori
"Comida buenísima y platos generosos , servicio amable y entrega rápida. Todo perfecto. Gracias!"
03/10/2021
Marc
"Muy bien, muy bueno y muy rápido. Son muy organizados y muy responsables, es una maravilla."
02/10/2021
Guillermo
"Muy bien"
16/09/2021
Miikka
"Very good Chinese. They actually make the spicy food spicy! Fast and tasty, will order again."
15/09/2021
Menú
Menú para 2 Personas
- Ensalada china
- Rollo de primavera (2)
- Arroz frito tres delicias
- Pollo con almendras
- Ternera con salsa de ostras
21,45 €
Menú para 3 Personas
- Ensalada china
- Rollo de primavera (3)
- Arroz frito tres delicias (2)
- Pollo con almendras
- Ternera con salsa de ostras
- Tallarines con langostinos
32,17 €
Menú para 4 Personas
- Ensalada china (2)
- Rollo de primavera (4)
- Pan de gambas
- Arroz frito tres delicias (2)
- Pollo con almendras
- Ternera con salsa de ostras
- Tallarines con langostinos
- Pollo frito
42,90 €
Menú para 5 Personas
- Ensalada china (2)
- Rollo de primavera (5)
- Wan Tun frito
- Arroz frito tres delicias (2)
- Pollo con almendras (2)
- Ternera con salsa de ostras
- Langostinos con ajillo
- Tallarines con tres delicias
53,62 €
Menú para 6 Personas
- Ensalada china (3)
- Rollo de primavera (6)
- Wan Tun frito
- Arroz frito tres delicias (3)
- Pollo con almendras (2)
- Ternera con salsa de ostras (2)
- Langostinos con ajillos
- Tallarines con langostinos
64,35 €
Menú para 7 Personas
- Ensalada china (3)
- Rollo de primavera (7)
- Wan Tun frito
- Arroz frito tres delicias (3)
- Pollo con almendras (2)
- Ternera con salsa de ostras (2)
- Langostino con ajillos
- Tallarines con langostinos
-  Pollo agridulce
75,07 €
Rollo de Primavera, 2 Piezas
3,30 €
Ensalada de Brotes de Soja
3,85 €
Ensalada con Carne de Cangrejo
5,44 €
Sopa de Pollo con Fideos Chinos
3,30 €
Sopa de Vinagre y Picante
3,30 €
Sopa de Nido de Golondrina
3,85 €
Sopa de Aletas de Tiburón
3,85 €
Sopa de Maíz con Carne de Cangrejo
4,34 €
Arroz Frito con Langostinos
6,54 €
Cha La Fan
Arroz de la casa
6,54 €
Arroz Frito con Curry y Ternera
4,95 €
Arroz Frito con Curry y Langostinos
6,54 €
Arroz Frito con Tres Delicias
4,40 €
Arroz con Curry y Ternera
4,40 €
Arroz con Curry y Langostinos
6,54 €
Tallarines con Langostinos
6,05 €
Fideo de Arroz con Langostino
6,60 €
Fideo de Arroz Tres Delicias
6,05 €
Cerdo con Cha Choy, Picante
6,05 €
Cerdo con Fen Zu
Fideos chinos
6,05 €
Ternera con Cebollitas Tiernas
6,32 €
Ternera con Pimiento Verde
6,32 €
Ternera con Salsa de Ostras
6,32 €
Ternera con Salsa Picante
6,32 €
Ternera con Bambú y Setas
6,87 €
Ternera con Gon Pao
Picante
6,32 €
Ternera con Fe Zun
Fideos chinos
6,32 €
Pollo Frito con Almendras Picadas
6,32 €
Pollo con Gon Pao
Picante
6,05 €
Pollo con Pimientos Verdes
6,05 €
Pollo con Cebollitas Tiernas
6,05 €
Pechuga de Pollo a la Plancha
6,05 €
Pollo con Fen Zu
Fideos chinos
6,05 €
Pescado con Bambú y Setas
6,87 €
Filete de Pescado a la Plancha
7,42 €
Langostinos con Chop Suey
7,70 €
Langostinos con Piña Natural
8,25 €
Langostinos con Bambú y Setas
8,25 €
Langostinos Fritos con Fideos Chinos
8,80 €
Langostinos Gon Pao, Picante
8,25 €
Langostinos con Sal y Pimienta
9,35 €
Langostinos con Fen Ziu
Fideos chinos
7,70 €
Langostinos Jon Sao
Con cabeza
10,45 €
Langostinos con Bambú y Setas
Con cabeza
10,45 €
Calamares Gon Pao
Picante
7,15 €
Calamares con Bambú y Setas
7,15 €
Calamares con Salsa Picante
7,15 €
Calamar con Sal y Pimienta
7,15 €
Ternera a la Plancha Especial Chang Feng
7,42 €
Langostinos a la Plancha Especial Chang Feng
9,90 €
Pollo a la Plancha Especial Chang Feng
7,42 €
Pato a la Plancha Especial Chang Feng
9,35 €
Pato Laminado con Salsa Cantonesa
9,35 €
Pato Frito con Almedra Picada
9,90 €
Gou Tie, Empanadillas Chinas
6,05 €
Ancas de Rana Rebosado Fritas
8,80 €
Ancas de Rana a la Plancha
8,80 €
Palitos de Cangrejo con Bambú y Setas
6,32 €
Conejo a la Plancha Especial Chang Feng
11,55 €
Languado a la Plancha con Champiñones
12,50 €
Lenguado Frito con Patatas
13,75 €
Ku-Bak con Tres Delicias
Arroz quemado
8,25 €
Ku-Bak con Mariscada
Arroz quemado
9,35 €
Gambas a la Plancha con Jamón Serrano
9,35 €
To Fu Salteado con Guindillas
Queso chino
6,32 €
Tu Fu a la Plancha con Champiñones
6,65 €
Filete de Cordero a la Plancha
9,90 €
Tallarines Tres Delicias a Caldo
6,32 €
Tallarines con Gambas a Caldo
6,87 €
Ensalada de Algas Wakame
Combinado de algas, cortadas en finas tiras y listas para consumir.
Seaweed salad mix and cut into thin strips ready to eat.
Contiene gluten, soja y sésamo
3,58 €
Shien Lo Pao, Pan Chino Frito
Relleno de verduras y carne de cerdo. Chinese bread fried of vegetables and pork.
Contiene gluten, huevo, sésamo y soja
4,68 €
Shia Chiao, Empanadilla
Rellena de gambas y bambú al vapor. Dumpling stuffed of shrimp and bamboo to the steam.
Contiene crustáceos, sésamo y soja
4,68 €
Sau Mai
Rellenos de carne de cerdo y setas al vapor. Stuffed whims of pork and mushrooms to the steam.
Contiene gluten, crustáceos, pescado, huevo y soja
4,68 €
Kuotie, Empanadillas Fritas
Rellenas de carne de cerdo y verdura. Dumpling fried stuffed of meat and vegetable.
Contiene gluten, huevo, sésamo y soja
6,05 €
Siau Long Pao, Empanadilla
Con carne de cerdo y col china. Bun with pork and pakchoi center.
Contiene gluten, huevo, sésamo y soja
4,68 €
Sau Mai de 4 Estaciones
Rellenos de pollo y verduras al vapor. Four seasond of chicken and steamed vegetables.
Contiene gluten, moluscos, sésamo y soja
5,23 €
Gyozas de Pollo a la Plancha
Empanadillas rellenas de carne de pollo, cebolletas y col. Dumpling stuffed with chicken, chives and cabbage
Contiene gluten, moluscos, sésamo y soja
6,05 €
Empanadillas Vegetables Shuijing
Empanadillas rellenas de verduras chinas con setas y bambú.
chinese vegetable crystal with mushroom and bamboo.
Contiene gluten y sésamo
4,68 €
Albóndigas de Sepia y Gambas
Bolitas hechas de base de sepia y gambas. Maetballs with cuttlefish and prawns
Contiene huevo y moluscos
4,68 €
Samosa
Empanadilla de pollo al curry. Samosa of chicken to curry.
Contiene gluten, huevo, pescado, sésamo y soja
4,35 €
Saumai de Marisco
Caprichos rellenos de sepia, gambas y verduras. Dumpling stuffed with cuttlesfish, shrimp and vegetables.
Contiene gluten, huevo, pescado, crustáceos
4,68 €
Combinado 1, Sau Mai
Sau Mai de cerdo + Sau Mai de arroz + Sau Mai 4 estaciones y Sau Mai de marisco. 
Contiene gluten, pescado, crustáceos, moluscos, huevo, soja y sésamo
4,68 €
Combinado 2, Vapor
Combinado 1+ Shia chiao + Siau long pao + Capricho de gambas + Cristal de Verduras.
Contiene gluten, soja, crustáceos, sésamo y huevo
8,75 €
Combinado 3, Fritos
Bolitas de dragón + Kuotie atadito vegetal + Samosa
Contiene gluten, moluscos, huevo, soja, sésamo, pescado y creustáceos
6,05 €
Helado Ben&Jerry's Cookie Dough, 500ml
9,07 €
Magnum Almendra, Tarrina 440ml
9,07 €
Contacta con nosotros
Encuéntranos
Avenida Diagonal, 145, Barcelona, 08018
Horario de apertura
Por favor, ten en cuenta que el tiempo de entrega puede variar
Realizamos entregas en
08005, 08018, 08019